What's Size got to do with it?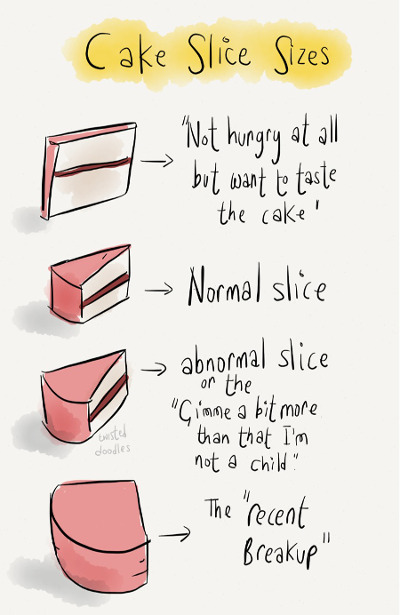 Is bigger really better? herrhem… cough cough..

Well, with the new trends of sky high wedding cakes, it seems that the taller the cake, the closer to heavenly heights you will be. And of course you want the girl from accounting, whom you've invited because you thought it would be rude not to, to gush with utter jealousy and comment on how amazing your cake is and in turn your choice of style is!

Now I almost live by the motto that you can NEVER have enough cake! And there is always room in my life for those sneaky late night adventures to the fridge. But what's size really go to do with it?
There is a rumour about big feet somewhere.. but I digress

When it comes to cake, size really does matter!
There's nothing worse than someone pouting in the corner because they didn't get a piece… or two!
Take into consideration the type of function it is. Is it your wedding day? A birthday, a kids party or is it just one of those occasions where you just need cake. I mean, who doesn't?! (Secretly sitting on the couch; Netflix and cake, seriously I swear that's a thing!)
The next thing you need to consider is your guests eating habits. NO, this is not about going through peoples fridges or shopping lists or watching them eat!
Are they double portioners? You may want to serve dessert size slices. Or are they not sweet tooths? In that case….. WHY?!
There is always something to be reserved for us little pocket rockets too! Sometimes there is something very dainty about a little cake that packs a punch. And a very convenient excuse not to share "sorry, I'd love to share but this is a single serve only".
Whatever the motivation, whatever the size, whichever the occasion, I welcome all choices of cake! I've never said no to an out stretched hand offering me baked love.