Upcoming Cake Trends 2018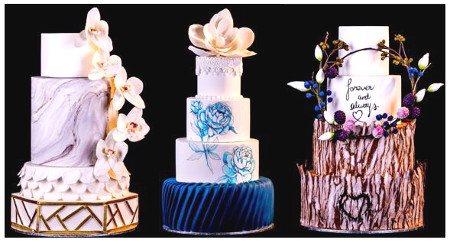 Long gone are the days where the wedding cake was just a piece of fruit cake that you used to keep for a year under your pillow.
Cake has come a long way! And now features as part of the main event. Whether it's for a birthday, baby shower, christening or wedding, it is becoming more common to have not only something that everyone wants to actually eat, but also look amazing and be one of the focusses for the day.
This sweet little multi tasker not only feeds people, but can be a keystone part of the decorations, add the wow factor to your party and be a focal talking point for years to come.
It's becoming more common to have multi tiers all a different flavour, and flavours as customised as the decorations themselves. The choice of cake is also reflecting the style and theme of the event as well as the personality of the guest(s) of honour.
Trends are not just for fashion, bad hairstyles and music, we are finding it in the choices of wedding cakes throughout the years. And here are some of the hot trends coming into 2018.

BOHO
We have seen this style created in so many different versions ranging from naked/ semi naked cakes to rustic and woodland themes.
This vintage inspired theme can be decorated in so many ways, it's the simplistic honesty to the style that keeps people coming back for more. We can see this theme sticking around for a while to come but can see it being paired with a mix up of fondant covered tiers and coloured buttercream in 2018.

FLORAL
Flowers are coming back in in a big way. We are looking overseas to get the inspiration from our flower choices in muted soft pastel tones. Fresh flowers are always going to be a main stay however there is resurgence for sugar flowers these days with the advancements of sugar mediums as well as many skilled cake artists pushing the boundaries on realistic blooms.
Flowers on cake have been around since the dawn of time, but we are seeing them used in ways to decorate cakes in a much more modern format.

METALICS
I am always naturally drawn to shiny things and when you pair it with cake, for me, it's a match made in heaven. Metalics have been featuring on cakes for the last year, but we are starting to see this trend being represented in rose gold, copper and even hints of gun metal grey.

HANDPAINTING
There is something very romantic and delicate about seeing hand painted decorations on cake. Whether it be a simple message, soft watercolour or detailed floral murals. It's like having you own edible piece of art.

WHITE ON WHITE
This monochromatic trend has come and gone over the years, but will always remain a classic.
We are seeing more embellished versions coming through with the use of plenty of sugar flowers and motifs with super sharp edges and clean lines. The devil is in the details to keep this style from being boring.

GREY
Team greys with blues, yellows, whites or blush pink to create a really modern look.
Marbling is gaining popularity recently and can be so versatile in its styling. Mix and match the tiers for a focal look on your cake and is also a dream to match with metallic accents.

EMBELLISHMENTS
I am seeing more and more customisation of cakes over the years from cake toppers, to initials carved into the side of cake to fully designed masterpieces that just take your breath away.
Embellishments, motifs, faming, bas relief and edible jewels. The list goes on! Mismatched tiers of different texture and colour that come together harmoniously and some cakes that just seem to float mid air!


There are so many new cake techniques that can take your cake from country road to channel with the right vision and detail. Adding just one personalised element to you cake not only creates something special for you but will give you something to remember long after the cake is gone.