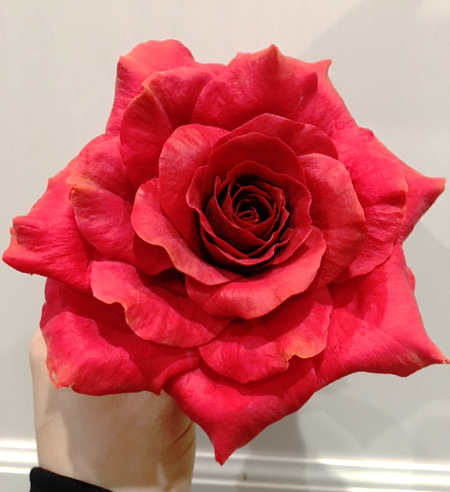 I must admit, I can't resist a beautiful flower.

As I go on my regular walk each evening, apart from stopping to pet every dog and cat I pass, I also can't help but notice some of the beautiful gardens on my way.
So many different types of flowers in every kind of colour combination possible! It definitely gives me loads of inspiration when I'm working away at my gum paste flowers.

I recently took a trip to spend some time with friends and was treated to walk through Rustons Rose garden. Oh my! What an explosion of colour and hay fever! But well worth it.
There were so many different varieties, some I've never even heard of before. I made sure I took plenty of photos of a couple of my favourites as reference.

After getting back home I was eager to whip out a fresh batch of fondant and recreate some of the roses I'd seen. I've been trying to make my sugar flowers to be as life like as possible, and with everything else I just have to practice, practice and practice some more.

Now nothing beats the delicateness and perfume of real flowers, however sadly they don't last forever and as nature intended the colours are subject to the seasons and you may not be able to get the blooms of your dreams, at least with sugar flowers, you can keep them, eat them and get them in any colour your desire!

I get such a buzz out of creating something from nothing and seeing it all come together in front of your eyes, and even better fuzzy feeling when you get to add them to a customer's order and watch their disbelief when you tell them it's all sugar.