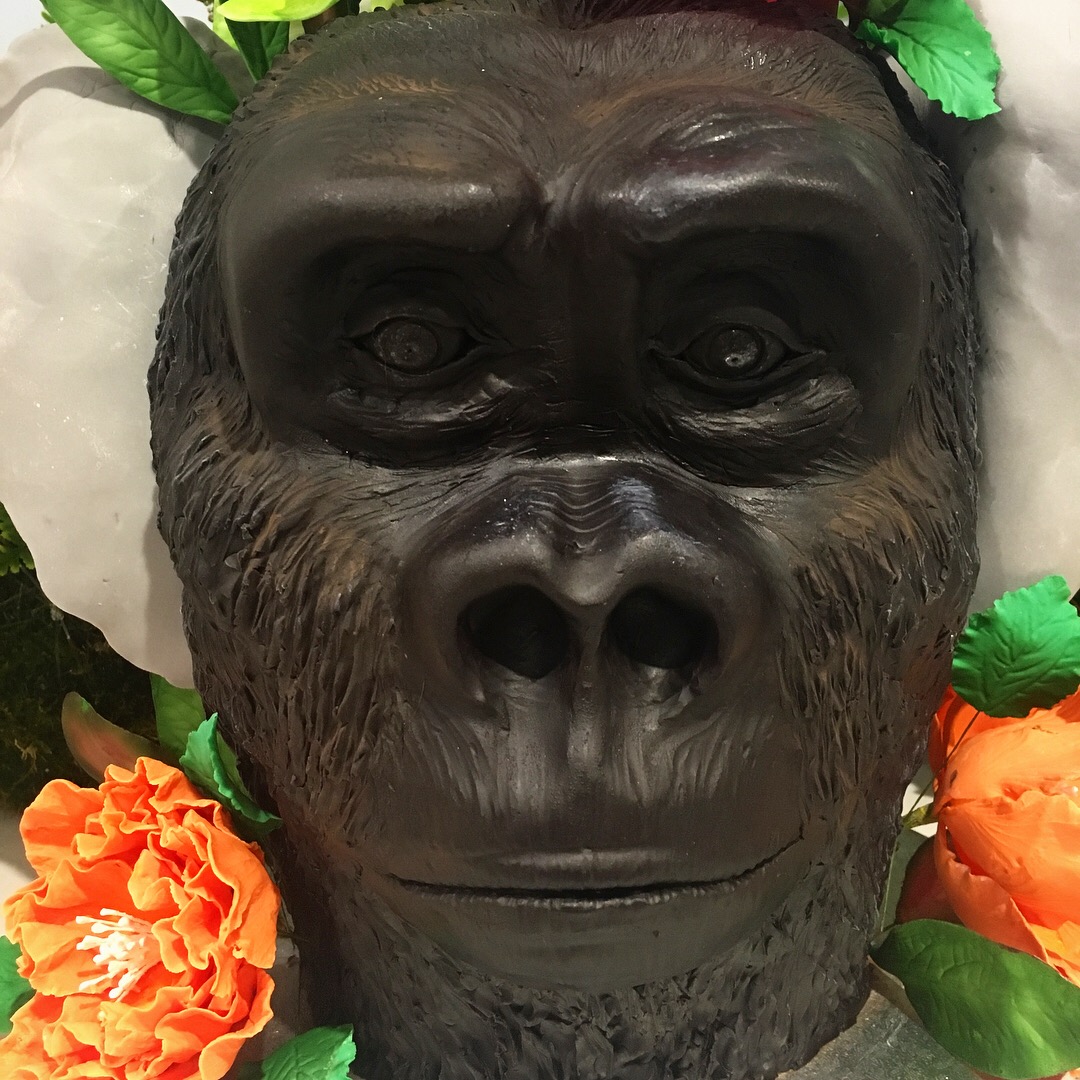 Odd requests for cake are more common than you think. But this particular request was on a different level.

It started out innocently enough with just a hint of uniqueness. Cupcakes and a cake.
What's so strange about that you ask? Well, nothing. Until I found out where it was going.

The brief asked for the cake to be flown to the Melbourne Zoo for a 40th wedding anniversary.
Hold the phone! Shut the front door! Get outta town you say!
And then get back in and tell me more! you say.

This is where the cake order when down a very interesting path.
The brief also called for a zoo or animal theme. One half of the couple loved Elephants and the other a Gorilla.
I couldn't help myself but want to create something that would not only fit the brief but would also blow their minds!

I began to make all sorts of Tropical sugar flowers, which a challenge in itself made harder by the need to ship them in one piece. Sugar or Gum paste flowers are quite delicate. To make them sturdy for shipping they tend to be a bit more "chunky" and less lifelike. Trust me there were a few cursing moments in the studio when one petal broke or they just looked like a mashup of a Frankenstein flower (frankenflower?) instead of a beautiful recreation of nature.

But the main attraction was the cake itself.
The first challenge was building the internal structure and making sure it was stable and food grade. A combination of metal rods, bolts and wood made up the support structure so that the cake wouldn't collapse onto itself during travel, and then a layer of food grade cake foil and plastic.

I built the cantilever parts out of rice Krispy treats and smoothed it over with chocolate and fondant.
Then I started to build the cake. One side a gorilla in pistachio and cardamom flavour and the other side an elephant out of lemon and elderflower cake.
With almost hundreds of angled head shots stuck up on my kitchen wall it began to look like an episode of CSI.
Trying to get the balance of proportions as well as structural integrity can be a balancing act. But I spent the next umpteen hours meticulously carving away until I was finally happy that it looked like it was supposed to and not some mish-mash of a bad science experiment.

After taking a million photos and mapping out the flower placement, I then packed and strapped the cake in ready for travel.
I can say it was one of the most nerve wracking experiences to see what we would find at the other end.
Relieved when only one small dent was found and easily fixed, the party was now complete with custom cake!

From what I hear, the party was an absolute hit, the couple of the hour were blown away with everything that the day entailed as well as their cake. Children running around with rice krispy tusks, and chocolate ears all night.

Will you see me at the zoo again anytime soon?
You'll have to tune in and find out …..